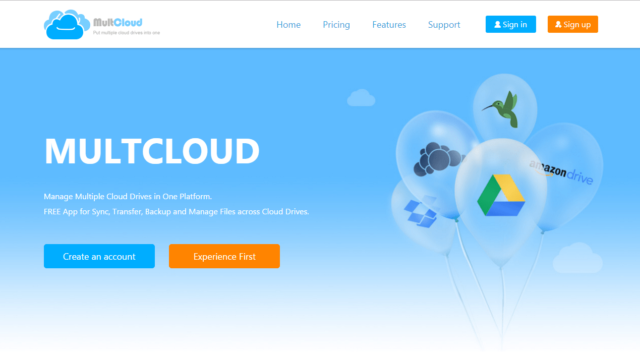 Data is at a higher volume than ever. With so many files scattered across a wide variety of files on the cloud, maintainability and monitoring are not always easy for today's fast-paced businesses. Why waste resources and time when you can bring all your important files to one single interface that improves data tracking, monitoring, and efficiency and also provides improved governance and compliance. MultCloud brings you the flexibility to cloud sync all your cloud storage services together and also your local data.
Overview:
Being a reliable multi cloud storage manager, Mutlcloud allows you to leverage the best of the benefits from cloud storage drives including OneDrive, Google Drive, and DropBox among others without you worrying about the expiry of the free storage. 
Free access to up to 2GB of data per month is one of the lucrative attractions of MultCloud. And average users can easily unlock possibilities through this web-based app or portal enabling you to transfer and sync data between diverse cloud storage in the cloud. To get a robust cloud to cloud backup service and access across all your cloud drives effortlessly, keep reading this review.
Features
With features such as cloud sync, cloud explorer and cloud transfer, MultCloud offers one centralized drive management interface to manage and sync files without the need for multiple accounts in different drives. It gives you better optimization and efficiency to completely satisfy your business needs.
Do more with online data
This is a feature that eliminates the cumbersome efforts of downloading files or reuploading between different cloud drives. Using just Drop & Drag or Copy & Paste, you can migrate files from cloud to cloud between Dropbox and Amazon Drive. Much to your surprise, the cloud transfer remains in operation even if your system is shut down. In addition, it serves as a file transfer manager. An Automatic file transfer schedule is enabled as needed by you.
Cloud Sync enables to sync two folders or files of two different cloud accounts. You can sync or transfer files from one cloud service to another or execute the cloud-to-cloud backup. Once the sync or transfer is complete, an email notification is shot.
You can get all your cloud drives in one place by syncing free cloud storage together. With single-sing on, cloud users easily access online files and also share it. The flexibility of offline file share keeps your data safe on the cloud storage drive.
Local data backup
Unless you implement File Transfer Protocol from your router to the PC or Laptop, you cannot access local data backup although it is available on your mobile device.

Security
256-bit AES encryption offers top-notch security for the cloud users and prevents loss of data and data infringement. MultCloud uses a token-based authorization enabling you to access different cloud drives.
Scalability
MultCloud can easily scale with 30 different cloud drives including One Drive, Google Drive, SugarSync, WebDAV, EverNote, MyDrive and others.
Cost
It's free only up to 2GB of data. Paid version comes with lots of additional features at $ 8 monthly, $ 20 quarterly and $ 70 yearly.
MultCloud does get you fair opportunity to use its free version. But, for larger use cases, you must opt for some bigger packages. Although MultCloud is a better alternative, it does not support edits and also Ubuntu One cloud drive. Before you shuffle through multiple cloud storage services, you must pay attention to MultCloud.