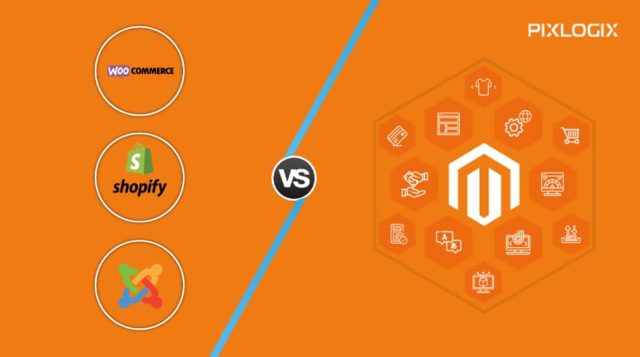 Choosing the best ecommerce platform is not a kid's toy! Particularly when you are entering in the market that is really wide, competitive and flooded with tons of ecommerce solutions. Robust catalog, flexible shipping, merchant integration, multiple payment options, and scalability, there are a lot of factors to be considered when it comes to choosing the right ecommerce solution for your business. In fact, it is one of the most important decisions that you make very early to start your ecommerce journey.
Whether to go for Magento ecommerce Development, WordPress, Joomla web development or to choose Shopify ecommerce solutions? Getting confused? To help you with that, we have compared these 4 most popular ecommerce website builders by comparing each of them in terms of different aspects.
Magento
If you choose to go for Magento ecommerce development, one of the biggest advantages is that you can leverage from the huge community of the developers. If you run into trouble, you can get the help of Magento forum and you will get help! You will get full freedom to design the store the way you want, but if you are not so technical, you may have to hire Magento developer to do it on behalf of you. Another big advantage of using Magento for your online store is the cost. Since it is an open source platform, you don't have to pay anything, except the hosting costs.
When it comes to ease of use, Magento scores pretty fair because of its steep learning curve. However, if you stuck somewhere, you will always leverage from the extensive user guides to sort it out step-by-step or you can Hire Magento developer anytime!
Magento brings a wide range of themes, including free and paid themesthat are fully mobile responsive. Further, you can leverage from the customizable themes to help you design your store the way you want.
Magento has a huge range, nearly 3000+, free and paid extensions available for you. If you are not so technically sound, these extensions could be of great help to add various features to your online store.
Payment Processing Options
With Magento platform, you can easily connect with more than 148+ different payment processors in a few clicks, including PayPal, AmazonPay, Stripe and more. You can also leverage from the payment processors supporting different languages and countries, which means you can take your online store to anywhere in the world!
With Magento, it quite easy to make your online store search engine friendly by taking necessary steps to optimize your store from the admin panel. You can edit page title, descriptions; add alt texts to images and a lot more.
WooCommerce
WooCommerce is a popular ecommerce plugin for WordPress today. With WordPress ecommerce Solutions, you can leverage from the free plugins available to customize the store, tons of analytical tools, ample security, and ease of changing the contents of your online store on the go. However, frequent updates from WordPress will destroy the experience of the user.
As compared to Magento, WooCommerce is a little easier considering the fact that you will not require more technical knowledge. However, if you would like to have something different than others, you might have to go for custom WordPress development services due to a bit of a learning curve.
You can leverage from thousands of themes and extensions. However, the pain point here is that you will require detailed knowledge about using a plugin for your WordPress ecommerce solutions.
Payment Processing Options
By default WooCommerce support PayPal and Stripe payment gateways. However, it does support a wide range of lesser known and even regional payment gateways. It is extensible, so any payment gateway provider can create a plugin for WooCommerce and support it.
As compared with Magento, WooCommerce falls a little due to fewer features for SEO, specifically when it comes to the structure of URLs. Further, you will require a lot of plugins and extensions to carry out advanced-level SEO.
Joomla
When it comes to Joomla CMS development, it has won the hearts of millions. With its ease of use, multilingual support, and SEO-friendly nature, many prefer to use Joomla web development for their online store.
Joomla is a little complicated. If you are not at all a technical person, you may feel stuck. Even though Joomla brings a lot of functionality, for the Joomla CMS development, you must be exposed to the technical side.
You can leverage from plenty of themes and extensions when it comes to Joomla web development. You can change the look, feel and layout your website by the templates. However, Joomla doesn't have a central directory for its themes and thus, users might have to find other sources for the same.
Payment Processing Options
It brings support for the major payment gateways including PayPal, Stripe, PayU and more. However, as compared to Magento or WooCommerce, Joomla brings limited support when it comes to the payment gateway integration.
With search friendly URLs, URL rewriting, Meta Descriptions, and GZip features, Joomla bring out-of-the-box compatibility for the search engines. Like Magento or WooCommerce, Joomla also brings a whole host of search engine friendly features.
Shopify
Within a very short time span, Shopify has gained immense popularity among online retailers. With premium SEO tools, ample support and mobile compatibility, many online retailers prefer to go for Shopify ecommerce solutions.
If you wish to make your ecommerce site, all you have to do is to drag and drop! Developing Shopify ecommerce solutions is quite easy as compared to Joomla, WooCommerce or Magento. However, with a lot of integrated apps, Shopify makes your online store a little complex to deal with.
Like Magento, Shopify also brings a lot of themes that mobile-friendly. However, most of the Shopify themes are paid so you will have to pay the additional cost to make your store attractive. Considering the apps and extension support, Shopify is little behind as compared to Magento. Shopify brings almost 2400 + free and paid extensions or apps, which is lesser than Magento.
Payment Processing Options
Shopify brings its own payment processor called "Shopify Payments", which makes it one of the first ecommerce platforms to have such feature. It also supports 100+ different payment gateways with minor transaction fees. This makes it a little difficult for small retailers to use different payment gateways for their online store.
Like Magento, Shopify brings a whole host of features that helps you make your online store SEO-friendly. It allows you to take all the necessary steps to optimize your online store, including managing page titles, image texts and a lot more. In terms ofSEO, both Magento and Shopify scores equal.
Final Verdict…
In this post, we run through the key similarities and differences between Magento, WooCommerce, Joomla, and Shopify. When compared all 4 eCommerce solutions, it is quite simple to understand that if you wish to have advanced features and unique appearance over the web, Magento brings a lot of benefits. Also, Magento gives you different options to select from based on your budget and requirements.
Of course, Magento is a little difficult and requires technical knowledge, but you leverage from thousands of themes, extensions, SEO-friendly site, and multiple payment processing options for your online store. What is your take on this? Looking for Magento eCommerce development Company? Want to know which one suits your requirements? Get in touch with us now!